Creating a Tract On-the-Fly
To save time, you can create a tract on-the-fly while you're creating a lease or lease offer. Creating a tract on-the-fly will create the tract of land, add the lessor as an owner of the tract, and add the tract of land to the lease.
1. After entering in the lease's information, click the New Tract button
Enter the lease's general information. Next, click the New Tract button.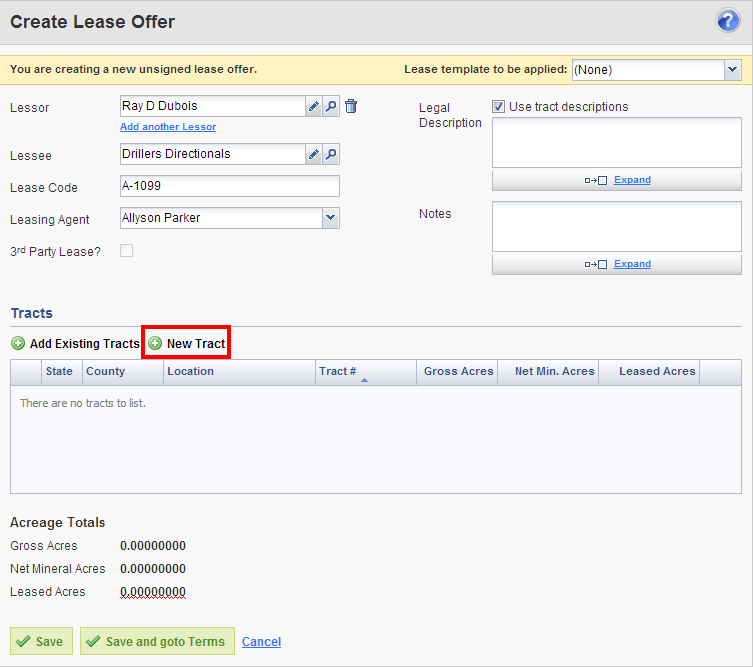 2. Enter the tract's Basic Information
Next, enter the Tract#. Optionally, enter the Label, Notes (for your company's internal use only), Ownership Notes (will show up on an Ownership Report), and information about the Source Deed.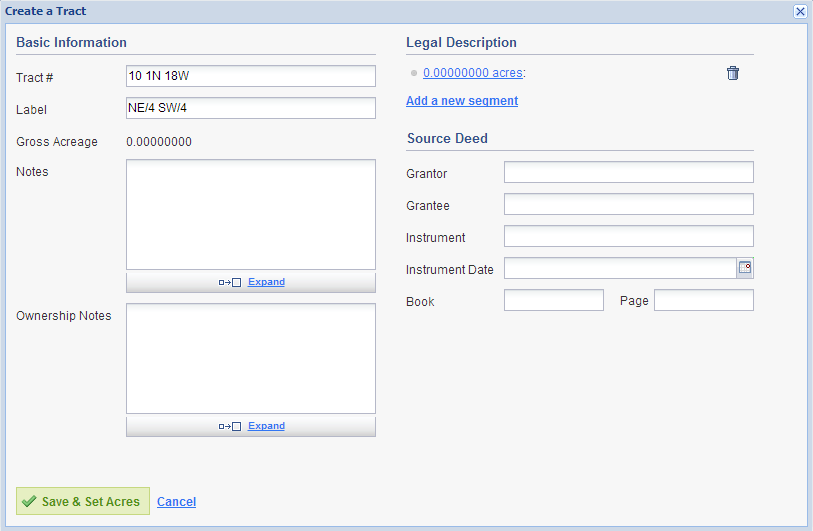 3. Add Tract Segment or Segments
Next, we need to tell Landboss where this tract of land is located and how many acres it is. Click on the blue 0.00000000 link. First, click on the Type drop down to select the type of system used in this area. Next, enter the State, County, and any other information that is needed. Type in the gross acreage of this tract in the Gross Acres field and add the legal description to the Description box. Click the green OK button when finished or Add Another to add another tract segment.

4. Click Save & Set Acres
Click the green Save & Set Acres button to save this tract and tell Landboss how many acres the lessor owns.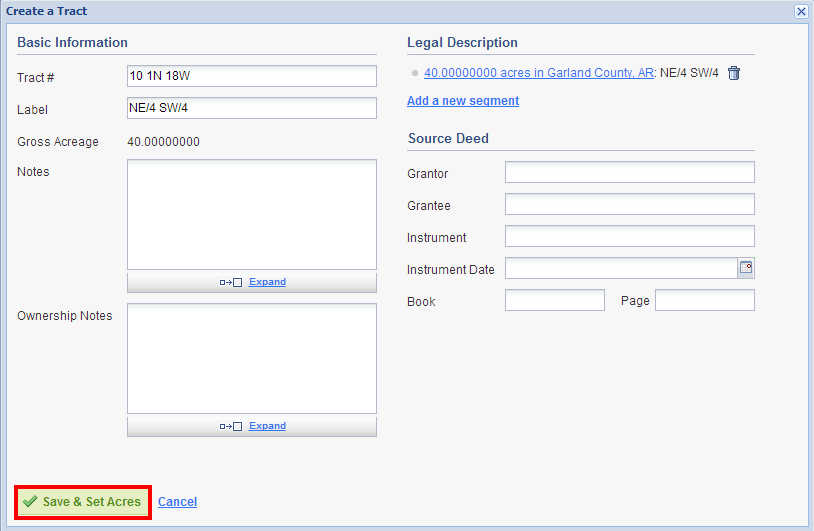 5. Enter this lessor's Interest, NMA, and Leased Acres
The Edit Lease Tract window will appear after you click Save & Set Acres. Check the Owner? box if this lessor is an owner of this tract of land. Next, enter the owner's interest in the Interest field; this should be entered as a decimal, and as a portion of 100. The All Acres? checkbox will synchronize this lessor's ownership in the tract of land and this lease; meaning, if you later make a change to this owner's NMA, the lease will automatically correct itself to reflect the owner's change in interest. If you check this box, the Leased Acres field will be grayed out and will automatically reflect the owner's NMA. If you do not check the All Acres? box, then you will need to manually enter the amount of acres this owner is leasing in this tract. Once you've finished, click the green OK button. After clicking OK, a blue drop-down notification bar will appear, letting you know that the tract was created successfully and this lessor was added as an owner.