Creating Lease Forms in Word 2007 or later
Follow the instructions in this article to create a lease form for Landboss using Microsoft Word 2007 or later.
There are two documents needed to create a mail merge: a Microsoft Word® document and a file with the data or records. To set up the lease forms, you'll need to first download the data source from Landboss. The data source file contains the list of fields supported by Landboss. Next, you'll open up Microsoft Word®, link your document and the data source together, and begin inserting the fields that are supported by Landboss into it.
1. Go to the Lease Forms Administration Screen
The list of mail merge fields can be found on the Lease Forms page in the Administration section. Click on the Administration button in the main menu at the top of the screen. Then, under the Leases header, click on the Lease Forms link.
Only users with the appropriate permissions will be able to access the Lease Forms' page.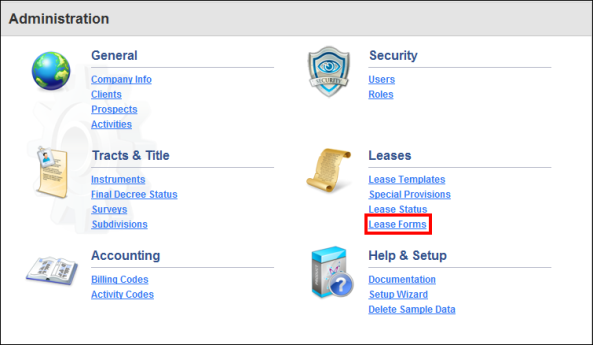 2. Download the List of Fields
On the Lease Forms screen, click on the blue Field List link, located to the left of the question mark icon.

3. Prepare the Template
Before the mail merge fields can be inserted into the document, the list needs to be made available to your mail merge template. In Microsoft Word®, open the document that you would like to use to make a lease form template. Then, click on the Mailings tab from the ribbon at the top of the screen. Next, click on the Select Recipients button and select Use Existing List.

Browse to where you saved the lease form fields file that you downloaded and open it. Unless you renamed the file when saving it, it will be named AllFormFields.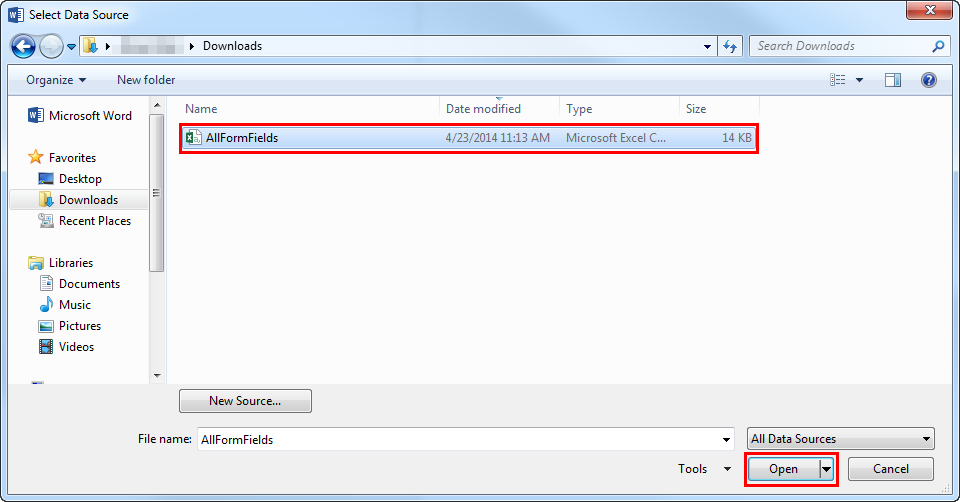 Click Yes on the File Conversion window. By default, the correct Text Encoding (Unicode (UTF-8)) is selected.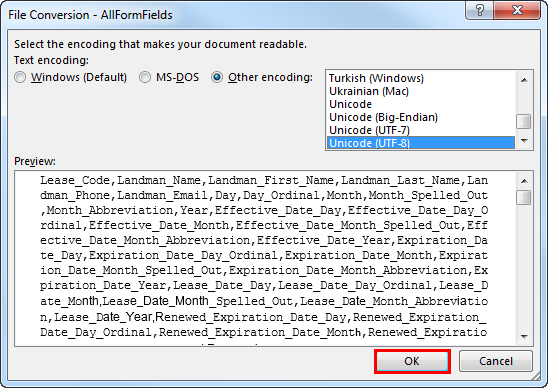 4. Insert the Fields
Now that you have the mail merge fields linked to your document, you can begin inserting them into your form. In Word®, click where in the document text you would like to add a field from Landboss. Next, click the Insert Merge Field button in the Word Toolbar and select which field you'd like to insert into the Word® document at that location. Repeat this step until you have finished inserting all of the fields that you would like to have populated by Landboss.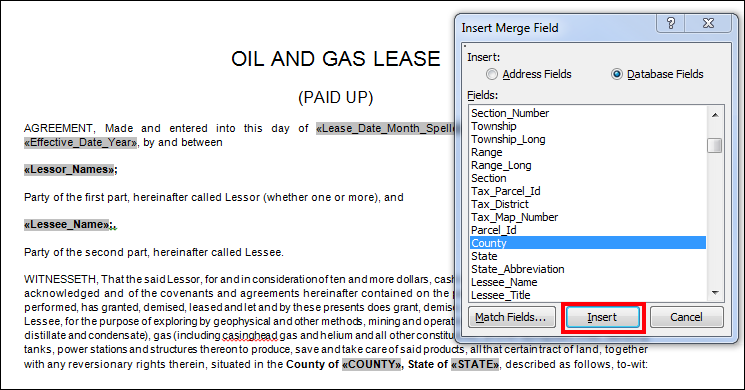 5. Save
Once you have inserted the mail merge fields into your document, you will need to save the Word® document. We recommend using Save As the first time, so that you will not overwrite your original document.
See the Uploading Lease Forms article to learn how to upload your new template to Landboss.